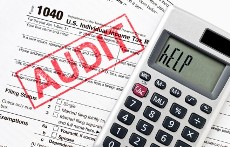 Tax challenges are common among small business owners and it's more than likely that one of your biggest pain points is filing your taxes. While it may only occur once per year, it requires substantial preparation.
At this point you may be asking yourself simple questions like "Should I do them myself?", "What will cause the IRS to audit my small business?" or even "how can I save money filing my small business taxes?"
These are all questions the kind folks at Rocket Lawyer can answer for you, so whether you're outsourcing your small business taxes or conquering them yourself everything goes according to plan.

Mistake #1: Keeping Poor Records
Disorganized bookkeeping can cause quite the headache when it comes to filing your small business taxes. Keep your records organized so you can properly deduct business-related expenses, manage inventory, prepare accurate financial statements for the IRS, maintain employee payrolls and most important limit the potential for costly legal issues. If you're old-school and still find efficiency in color coding folders in filing cabinets, make sure you're documenting everything by month and year. If you prefer digital, Quickbooks is highly regarding as the most effective accounting software for Small Business Owners. Pick your poison and stay organized.